Furniture Store POS Software for Windows
Now Featuring Pro Version for Windows
Watch our one minute introduction video (see more below):
See All The Features
Download an in-depth guide to the software, including all the features with screenshots, and more.
Download Brochure
Get Started With a Full-Featured Free Trial
Download a fully working demo of our software free of charge. Get Your Free Trial
Why WinCDS by Custom Design Software?
In a word, our software is Brainless! In order to make a sale with every other package on the market, you must traverse five to eight different screens! With WinCDS, not only do you get all the control and flexibility you would with a highly developed POS system, but you always have a 'paper-looking' Bill of Sale on the screen at all times. This means that it looks like what you're doing right now by hand, but with the all conveniences that a computerized system gives. You may be the greatest computer person in the world, but if your Sales Staff doesn't get it the first time, they're going to throw their hands up and say, "I give up!"
What type of training is available?
Because our software is the easiest to use on the market, we are able to do all of our training over the phone. Our software and product demos ships with practice data. So, when you're at the office, sipping your cup of coffee (where you're most likely to learn the most), we will guide you step by step through creating sales, the Purchase Order system, all the way through to our Daily Audit Report and monthly reports. All in a couple of hours! Unlike my competition that makes you come to their office for training up to a week. Right away you must realize how hard their software is!
What is our Product?
Retail home furnishings software for the retail furniture store or chain store operation. We are also great for Pool/Spa, Billiard, Carpet, and many other stores!
What Does the Software Control?
Point of Sale (POS)
Order Entry
Inventory
Sales
Cash
Customer Service
Special Orders
Lay-A-Ways
Purchase Orders (POs)
Commissions
Petty Cash
Undelivered Sales
Month End Reports
A/P, P/R, Banking, and G/L
Installment Financing
All reports Available on screen and printed!!
What is our Price Range?
Complete Software Package, Point of Sale, Multi-Store, In-Store Finance Module Affordable for every Home Furnishings Retailer. Gets you out of the office! Please call the number on our Contact Page for pricing information.
What are our Competitive Strengths?
Features advanced WYSIWYG technology.
Simple to use and operate.
Created by a furniture dealer.
Completely re-designd from the point-of-sale up!
Prints customer "Bill of Sale".
Tracks customer history.
Gross Margin reports.
Large customer user base.
Multi-store/Network ready.
Eliminates accounting fees and manual journals.
Automatically prints price tags for the retail floor showing a factory "List Price" and "On Sale" price that can be merchandised to any gross margin.
Purchase orders are automatically emailed at any time that they are ready.
No formal training classes necessary! CDS software is easy to use and operate.
Software uses factory style numbers not some unrelated "SKU."
We specialize in "Special Order Sales."
Catalogue sales can be achieved directly from Point of Sale "on the fly".
Payments on Lay-A-Ways are easily controlled without delivering the items.
Merchandise can be reserved for customers or easily borrowed to make a quick sale.
Installment financing module available that completely integrates with the sales module.
Yes, Custom Design Software allows you to effectively handle partial deliveries.
Competitive prices on computers and networking.
Build a complete, working e-commerce website (which can be hosted by Yahoo Small Business) for free, with just a click from inside our software!
Email Blaster
Integrated Credit Card Processing
Ipad Integration
Much, Much More!!!
What about my old customer data/mailing list?
WinCDS can import your existing customers from an excel spreadsheet, access database, CSV file, or any other standard format. Contact us for more information on all that we can do for you to help you get started and transitioned to the software.
Build a Website automatically
With a click of a button, you can now build an entire, fully functioning website that can easily be hosted by Yahoo Small Business with built-in ecommerce. To view a model of our website, simply go to www.simplifiedposonline.com.
Bill of Sale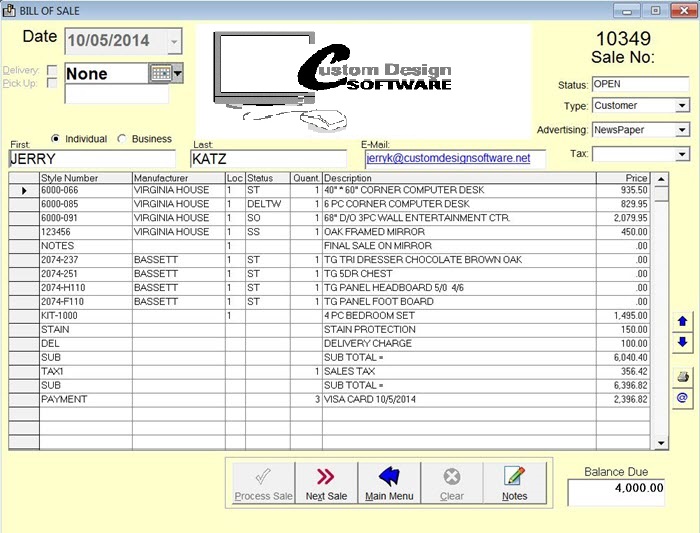 ---
Customer Adjustment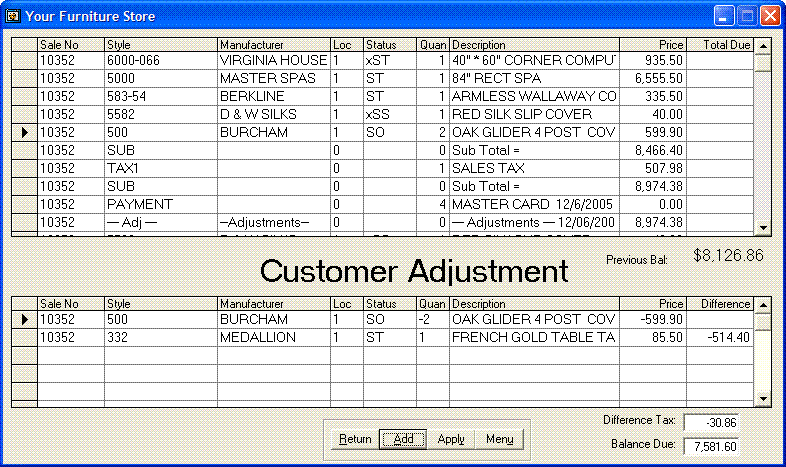 ---
Purchase Orders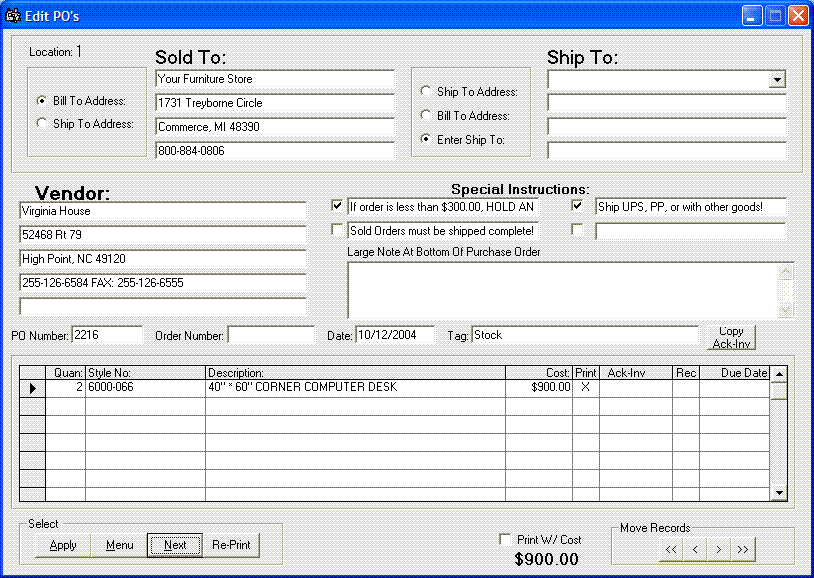 ---
Service Module
---
Get Started With a Full-Featured Free Demo
Download a fully working demo of our software free of charge.
Get Your Free Demo